Hey y'all!
Thank you sooo much for following me over here to my new blog! Wow, it was a big hassle to have to change everything, but I so appreciate your support and encouragement!
To celebrate my new blog, I am offering some blog candy!!
I am going to offer gift certificates to the two stamp companies that I design for: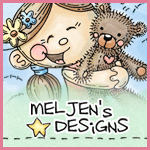 $15 to Meljen's Designs Digi Stamps
Here's what you can do to be entered! You get one entry in the drawing for each item! Just be sure to let me know what you did so that I can get your entries in! Just to clarify, you do NOT have to do ALL of these items to enter! You can do one, two, or all! Each item gets you an entry!
1) Leave a comment on this post.
2) Be a follower. Let me know in your comment if you are a follower.
3) Share about this giveaway on Facebook!
4) Pin this post to Pinterest!
5) Refer your friends! Tell them to mention that you sent them! For each person that says you referred them, you get an extra entry!
6) Blog about this giveaway! Share the link of your post with me.
This giveaway will close Monday, April 30 at 7:00 p.m. central time. I will draw a winner and post the name that evening!!